A night to remember …
The "Music & Passion 2018" Benefit gala dinner, held in the historic landmark of Austria Trend Park Schloss Schonbrunn of Vienna, Austria on the 10th of February 2018, was an opportunity for ENFiD-Austria to partner with the Gesellschaft der Freunde der Philippinen in Österreich (GFPÖ) and Cecile Prinz's Collections, towards support of the Make-A-Wish Foundation.
With an audience of over 200 persons, there were leaders of the Filipino community, Austrian and international guests, and from the Embassy of the Philippines the Consul Leilani S. Feliciano and Chargé d'Affairs a.i., Ms Ayesha Bahjin, Cultural Attaché.
A rendition of "Copacabana", set off the illustrious programme for the evening of "Music and Passion". The contemporary blended well into the cultural presentation of the traditional through a fashion show, Euro-Filipino duets, and traditional dances of the Philippines representing the regional and historical. It was truly a manifestation of the ENFiD objectives for cultural heritage, the arts, and entrepreneurship.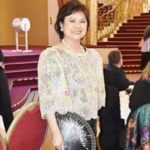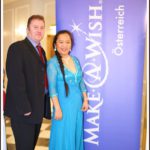 While the entire programme was moderated entertainingly by Chair/ENFiD Country Representative, Maria Zelda "Marizel" Magistrado ROJAS, Communications and Press Relations Officer, Mae CAYIR delivered the ENFiD presentation, the main message of which was to highlight how the Filipino community of Austria has evolved into the Euro-Filipino that has potential for sharing experiences and perspectives on the ENFiD platform. ENFiD-Austria workshops are planned for the Filipino community based on programmes of ENFiD, which are basically for the capacity building of this community based on the UN Sustainable Development Goals and the Paris Agreement.
As co-organizer of this event, the ENFiD-Austria team was fully on hand with their part in circulating invitations, sales of tickets, coordination of logistics, tombola sales. Treasurer, Dorcas "Dorcie" Navarette AIGNER, took charge of the Tombola prizes, and ENFiD-Austria representation amongst guests was carried out by Secretary, Maria Luzviminda PEPITO and Auditor, Ana Maria "Minnie" LANGER. From Bacolod, Vice Chair, Cecilia "Cecile" Orola CECH was fully involved throughout the preparations for this event. Though the team is small, full engagement and coordination flowed with ease as one ENFiD-Austria in mind and spirit.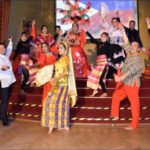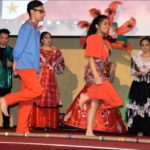 The debut as YENFiD-Austria member, Sarah Jozelle Rojas, was in her active role as the lead dancer of the 'Tinikling' dance that rounded off the cultural programme, as well as YENFiD-Austria member, who was coordinating and dancing with the GFPÖ troupe.
Special mention is deservedly made as follows: President of GFPÖ, Mr. Wilson Tan-Ho; fashion show direction by Mrs. Cehl Prinz with exclusive choice from her current fashion collection, choreographed by Miss Blair Siasico, cultural entertainment featuring various dances from Luzon, Visayas and Mindanao expertly choreographed by Director of Show, Mr Wilson Tan-Ho (GFPÖ), who was an integral participant of all the cultural dances and duet songs, partnering with Mrs. Bernadite Itlanas Steiger, Global Tawag ng Tanghalan 2018, Europe winner, as well as much beloved by the Filipino community of Vienna, Rev. Fr Mars Sahulga. The charming duet by Mr. Wilson Tan together with Austrian musician, Mr Roman Bibl drew repeated applause, and made way for the floor to be opened for a night of dancing to be had by all.
The night could not have ended without the generous sponsorship of major prizes received from Eva Air c/o Mr Philipp Wagner, Mr. Walfried Prinz, and Pinoy Relax/T-Mobile c/o Dr Glocie Guinez Stergeric. Numerous minor prizes were received from various donors.
The event was covered in its entirety by ABS-CBN by Remuel Tuares on behalf of Mr. Hector Pascua, who will be transmitting to "Balitang Europe". Professional photographers were Mr. Randy Ilagan assisted by his son, Jesse Ilagan, as well as Mr. Emigdio Nava.