ENFiD NL Dinner for a Cause
Creating high expectations, all seats were sold out quickly for the ENFID fundraising dinner at Japanese restaurant 'Kobe' in Maastricht. Excited guests came together on a cold and rainy evening, no one left disappointed.  The food was – as could be expected – excellent, the service was impeccable and the atmosphere was as warm as the  flames flaring off the tepanyaki grill. To top it all off, thanks to the generosity of host and guests, a fair amount of money was raised for ENFID- Biogas project.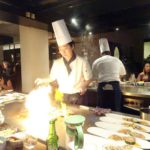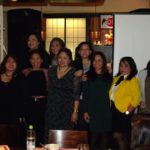 When asked some months ago, Evé Abastillas on behalf of Kobe kindly agreed to host the ENFiD  fundraising dinner for the local development projects in the Philippines. As it turned out, the restaurant was packed with excited friends of ENFID with no single seat left open. All night, the staff did their best to accommodate the guests in the best possible way. Although the high quality 5-course dinner and spectacular tepanyaki show was the centerpiece, the event turned into more than just a dinner.
Old acquaintances and friends got together to talk, joke and take pictures together, in true Filipino fashion. Numerous new connections were also made. There was even a bit of dancing to get rid of the extra calories! Most importantly, the presentation about the objectives of ENFID and its project raised awareness and appreciation of the good work this organization does on a very local scale in our homeland, the Philippines. Overall, it was a very successful event that would not have been possible with out the support of our generous sponsors and the Kobe team. Cheers!
Rosanna Mooren