The Ajos foundation is one of the beneficiaries of ENFID-UK project in 2017.
JJ Formento , former Board of Trustee in UK and founder of Ajos Foundation provides an update.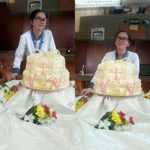 The two technical vocational scholars Mary Joy Del Mundo and Marjorie Casipit are nearing completion of their first full year at Anihan Technical School in Laguna. Their report cards show that both girls are doing well, and both have adjusted to their new school environment satisfactorily. The names of the 20 high school scholars are being chosen by the school advisors. Funds for this will be released in March 2018 and awarding of certificates will be held during graduation day on April 2018. Ajos Trust continues to seek partnership with Enfid-UK, and we will provide an annual written report to the Board in time for the AGM. Future projects include sustainable development and livelihood for the agri-farming and fishing communities in Ajos. Research into handicraft projects using locally sourced raw materials such as Buli and Buntal will be conducted in the coming weeks. Charlene Ching will be visiting Ajos this month of March with a few interested social entrepreneurs from Manila to look for opportunities and potential within Ajos and the surrounding area.
For further information about Ajos Trust, please email jjformento@yahoo.com
Myla Arceno