Kung Sama Sama , Kayang kaya
ENFID-UK promotes Health and Fitness among our community at the Airport Bowling Centre near Heathrow Airport with Consul General Senen Mangalile as the very special guest on 25th February 2018.
The following organisations and groups showed their sportsmanship in this friendly tournament with gusto and loud cheers:
● CAVITENEOS ( Men and Ladies in separate teams )
● CAMSUR
●SAMARENEOS
●MABUHAY FOUNDATION UK
● PESO
●FINCHLEY RAIDERS
●YENFID
●Tropang LGBT UK
●FRIENDS OF ENFID and SUPPORTERS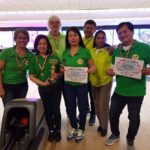 Congratulations to Camsur for bagging the trophy and the medals!
The runners up are Caviteneos ( Men ), Mabuhay Foundation UK and Finchley Raiders . Well done all !
If there is a prize for the most cheerful team , no doubt it will be awarded to Tropang LGBT .
The tandem of Vice Chairpersons Ronald Sipat (very organised ) and Glenn Llarena proved a success in organising this sport event with the dedicated commitment of Vice Chairpersons Leny Cordero and Madelyn Dela Cruz Richardson. The active game involvement of Board of Trustees Mathie Smith ( of winning team Cam Sur ) and Yvette Remojo Ramos inspired the players . Our treasurer Maria Basford showed her thorough mind and keen eyes with numbers in spot on calculation of scores . Our Youth, the YENFiD with Regin C Dullas and Marru Cordero Oanes leading them , not only enjoyed it but also raised the standard of our future community.
And of course all of these inspiring motivation was truly fuelled by our Chairperson Christian W Estrada , who tirelessly led everyone all these time as a role model.
Our ever supportive previous Chairperson Edwin Dela Cruz , and BOT Egot OF'finchley and Marilyn B Thompson won't of course miss this opportunity to support the advocacy of ENFID.
Maraming salamat po. Success is the true reflection of team work in our communities.
Some friends like Mark J Robles travelled far just to support the event .
See you soon.
Upcoming events :
● Wales outreach on 18th of March 2018
● Gala night for fund raising on 24th of March 2018
● AGM on 15th of April 2018 for the election of the next BOT
For more info on how to get involve with Enfid ( European Network of Filipino Diaspora ) please keep in touch with any Board of Trustees mentioned. Other BOTs are Novo-Mar Foronda Ramos, Moises Espanola, Ronnie V Del Barrio & Ruby Carmencita Dancel Ibalio. Add on : this venue will hold the international Bowling tournament of Filipino communities from 23 countries this summer 2018 ( Info shared by Mabuhay group and strikers who were also having their tournament last weekend ).
Special thanks to Mark of ABS CBN for covering the event and Ditse Ronnie Del Barrio for the poster and advert .
With thanks
Myla Arceno
Secretary ( BoT)
Enfid UK