London 2019 Conference and Annual General Assembly
18-20 October 2019 Baden-Powell House, 65 Queen's Gate Kensington London
By: Myla Arceno, MCSP
ENFID delegates from different countries of Europe met in London and with full pack of scheduled activities, meticulously organised by the European and UK Board of Directors .
On day 1, the delegates did the customary courtesy call to the Philippine Embassy. They had the privilege to meet with the current DCM Frank Cimafranca and Consul Arlene Macasia.
The first day was also the most important election of the European Board of Directors held in Baden Powell .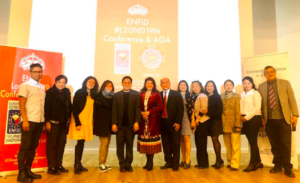 The delegates also had the opportunity to watch Ms. Celia Flor Tan of Sweden on her impressive techniques with painting. Some had been given the chance to try the acrylic fluid painting technique and it became quite popular with the delegates.
In the evening , the venue was moved to Holiday Inn Hotel in Kensington for the TALA Singing competition . I was lucky to join at this time and been treated with talented singers in ENFID. The winners are Mr. Aldrin Dagui of UK as the Grand Champion, Mrs Berna Steiger of Austria as 1st runner up and Ms Cecil Germes of Germany as the 2nd runner up. The event was not only filled with talented participants but also with impressive judges and hosts.
On day 2 of the conference , the delegates met and listened to the inspiring stories of the Leadership . This year's theme is "Leading Effectively with Emotional Intelligence." The speakers are the following :
Mayor Danny Favor, the Mayor of East Grinstead and the first Filipino Mayor in the UK.
Mr . Luis Bariuan, the Country manager of ABS CBN.
Ms. Rowena Romulo, the Managing Director and owner of Romulo Café.
Ms. Christine Catlin, the Assistant Director of Learning and Organizational Development in Chelsea and Westminster Hospital NHS Foundation Trust, gave a talk on Emotional Intelligence.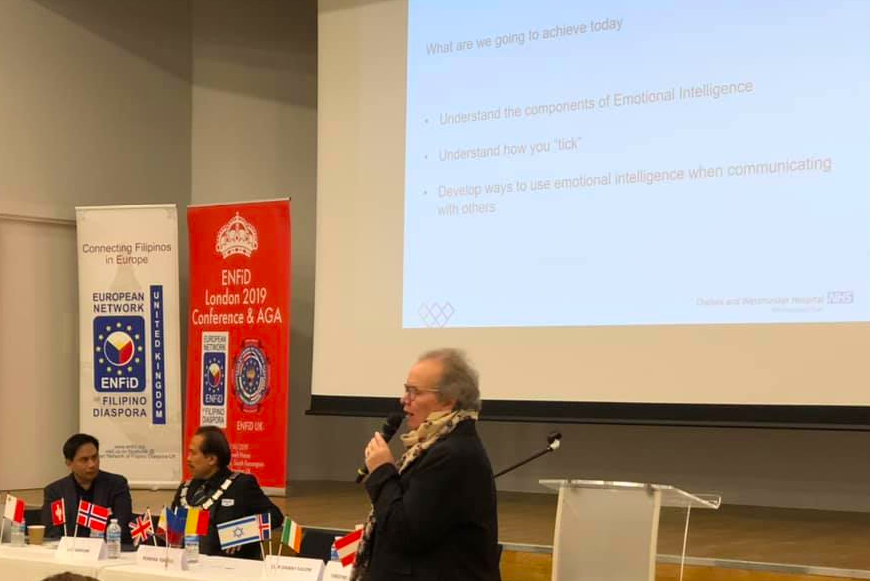 In the evening, The Gala night in Millennium Hotel is also a big success with delegates from Malta, Austria, Germany, Italy, Switzerland, Norway, Czech Republic, France, Sweden and UK. The guests were entertained by the all time favourite Lahing Kayumanggi Dance group led by Ronnie Del Barrio, and the powerful voices of Ms. Vickya Monocillo , Mr. Jun Degamon and Tala Champion Mr. Adrin Dagui. The gala was hosted by Mr. Sonny Laragan .
For the first time, ENFID gave the leadership and community service awards to truly deserving individuals . Congratulations to Mayor Danny Favor and Mr. Edwin Dela Cruz of UK and Ms. Vivian Vargas of Switzerland .
Congratulations to all the organisers and Board of Directors of Europe led by Ms. Leonor Vintervoll and UK Board of Directors led by Mr. Christian Estrada ! You are all truly inspirational.
2020 ENFID Conference and AGM is in Milan, Italy.