ENFID – SWISS IN THE MIDDLE OF IT ALL
By Joanna Wennström
As 2017 is about to end, we look back at what we have achieved. Since the planning of the 60th Anniversary of the Diplomatic relations between Philippines and Switzerland, ENFiD Swiss has been at the core planning together with other Filcom Leaders and the Philippine Embassy. An array of Festivities throughout Switzerland and throughout the year has already been planned.
We joined with the Philippine Embassy in Berne on 17th June 2017, for the historic planning which gave us the opportunity to mingle with other filcom organizations. It featured Philippine Arts and Cultures and Filipino Sports such as the Arnis, the founder happens to be one of our YENFiD member.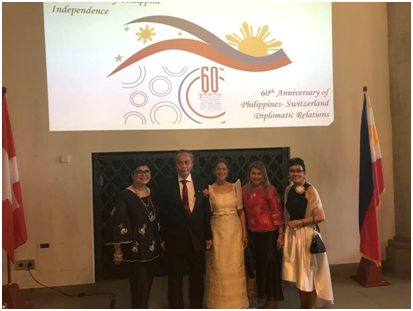 On 27th May 2017, we held our second Annual General Assembly at the Erlöser Halle in Zurich. Spring Dinner served as an information night as well as for those who were still unsure of what ENFiD is. Questions and answers were in abundance, and we explained our positions as volunteers for this endeavors. For the benefit of our Kababayans here and in the Philippines. It cannot be helped that we do this wholeheartedly. We also held an election to fill up the vacant positions, and happy to say, we were able to put up the YENFiD committee.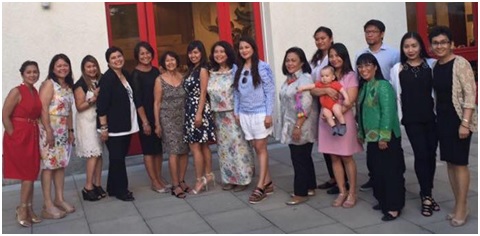 ENFiD Swiss is keen on getting a sponsorship with the help of  Frau Vivian Kiefer who introduced us to Herr Freddy Dinkel of Carbotech. This is to help the Biodigester and waste segregation. By next year we will have the decision if our sponsorship is granted.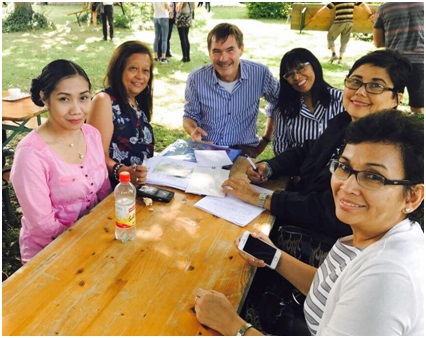 The conference held in ESSEN Germany on 29th September-02 October 2017  was a much awaited and anticipated one, not only that we got to see our old friends, but we get to meet new ones as well. Delegates from Switzerland came with skepticism and uncertainty but left with a much more understanding on where we stand, and I am happy to say, these delegates are now active members as the new set of officers.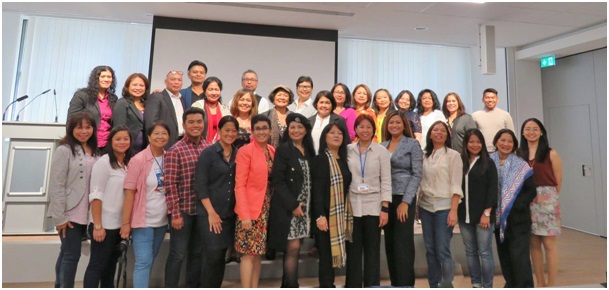 The workshops on Development Projects, Investment Opportunities, and Social Entrepreneurship were well attended and questions just flowed, asking Ms. Leila Rispen-Noel and Ms.Tina Liamzon. We felt that we needed more time to get answers. Another was the Sustainable Development, the environment project is quite interesting. We also would like to have listened to other workshops such as the Migration and Social issues but time is of the essence, and we did not have that luxury to listen to more of the workshops.
We were quite engrossed and keen on the Commission on Filipinos Overseas. The discussion on Lakbay Aral was especially interesting and we hoped that this project will be an opportunity for Swiss Pinoys to learn more about their heritage by the experience they will get. It will be a memorable and enjoyable moment for them. ENFiD Swiss will try to pursue this project.
Of course, there won't be any conference complete without a Dinner Gala night, it's that time where we get dressed in our finest and let our hair down and get wacky. We had the grandest time.Thank you ENFiD Germany for the unforgettable weekend.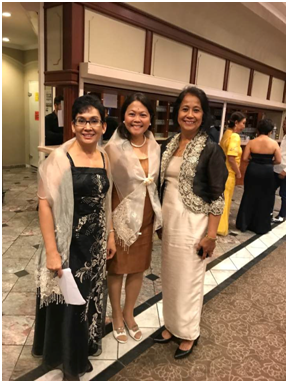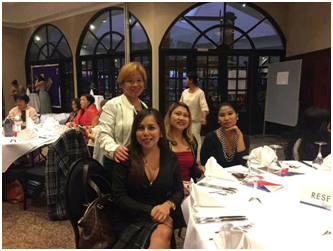 On November 11, 2017, ENFiD Swiss is collaborating with the Samahang Pilipino Swiss St. Gallen, to host a dinner and cultural event in celebration of the 60th Diplomatic Relations between Philippines and Switzerland. We have invited Ambassador and Mrs. Joselito Jimeno and the Consul General Theresa Lazaro, to grace our event. It will feature cultural diversity, such as Philippine songs and dances. We are especially elated that it will be held in St. Gallen, as ENFiD Swiss is registered in Wil St. Gallen.
The new set of officers were elected on 7th October 2017. They are an active and enthusiastic Ladies that will lead ENFiD Swiss to yet another worthwhile projects.
So far the planned activities for early next year are as follows :
Starting with a Leadership training,-to be held in February.

A planned Arts and Culture with a Sports day especially with the children.

Strengthen YENFiD
We are really looking forward to 2018 as we prepare for new ventures that we are about to tackle. But no challenges are too small to face. «  We succeed when we face our challenges Head on »