Back to the roots – an interview with Carl Hansen
Did you know that out of the 7,600+ islands in the Philippines only 2,000 are inhabited? My goal is to visit half of them especially the remote ones. Some of these islands are inhabited by entrepreneurial Euro-Pinoys, a German – Filipino in Palawan, French – Filipino family in Mindoro and Scandinavian– Filipinos  living in the island of Malapascua.  I've often wondered what made them give up their comfortable and convenient lifestyle to live in an island. I've thought of doing the same but never had the courage.
I have admiration for those who took the road less travelled and this made me interview Carl Hansen. He is the son of publisher Rachel Hansen of Enfid Sweden and the owner of SurFit Gym in the island of Siargao, Surigao del Norte. The whole province of Surigao has just the right amount of infrastructure for comfortable living that enables the people to maintain the atmosphere and experience of island life. It is an ideal getaway and a good choice for young entrepreneur like Carl.  
We've exchanged couple of message through social media and he amiably agreed to answer some of my questions.
MM: Tell us about your place and SurFit Gym.
CH: I live in Siargao island, about three hours away by boat from Surigao Del Norte and SurFit is a fitness gym. Siargao has one of the best surfspots in the world called Cloud 9, so that's how the island became famous. Opening a fitness gym on a surfing island the name SurFit with it's muscle wave logo works really well.  SurFit is a 110 sqm fitness gym that combines a relatively modern gym in a big native style nipa structure.
MM: Where did you live before?
CH: I lived in Sweden back in 2013, before I started backpacking in Asia. I ended up living in China for the first 7 months in a Kung Fu School. After that I began traveling around to different places like Vietnam, Cambodia, Thailand, Malaysia, Indonesia and I didn't settle down anywhere else until I got to Siargao in August 2016.
MM: What made you decide to move to Siargao?
CH: I decided to move to Siargao because I kept coming back here and always ended up extending my stay. I came here the first time in  2012 and I just fell in love with the island… it's people, the way of living and everything else that comes with island life. Coming back here for the 4th time in 2016 with no plan of how long I'm staying or where I'm going next, the idea of opening a gym came up and before I knew it, all the bits and pieces came together and few months later Siargao's first gym SurFit opened.
MM: What were your initial concerns/issues when you moved in Siargao?
CH: When I decided to move here,  I didn't really have any concerns personally, being half Filipino and all makes things easier to stay here long term with less hassle.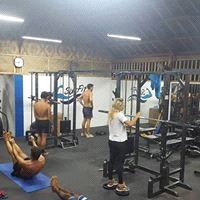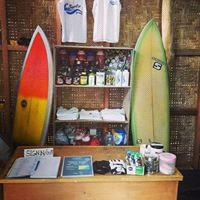 When it came to Business I had more concerns and problems than I can count, starting a business in a country and a place where you have no idea how things work and, where you can't do the easy way like finding all your answers online. Everything had to be done by having connections, phone calls and things being dealt with personally. Living on an island required multiple trips to the mainland Surigao for government permits, paperwork and supplies, not to even mention how I was going to get two tons of equipment to the island in the middle of nowhere, making logistics a nightmare. But I had help from my mother and friends and after months of work and preparation everything paid off.
MM: Why Surfit? Did you have any experience in this business before?
CH: I started the SurFit Gym because I saw an opportunity of an island growing with people/tourists every year and there not being any public gym whatsoever on the Island. I've had years of gym experience and used to go to workout 5 times a week when I lived at home before I started traveling and I've always wanted my own gym, so it was a natural choice and decision.
MM: What do you enjoy best about your way of life?
CH: The things I enjoy the best about my life Is everything haha. I live on a beautiful paradise island with the woman I love, running my own business in a place that I love, where everyone is friendly, freshly caught seafood (fish, shrimp, squid and shells) is easily accessible and cheap and not to even mention the enjoyment of surfing.
MM: What have been the best and worst experience?
CH: My worst experience on the Island happened recently, I was taking a boat early in the morning to go to Surigao and was driving my motorbike when It was still dark, and there was a black Carabao walking around untied on the road that I didn't see until it was right in front of me, so I crashed. I was pretty hurt and bleeding from my forehead when a van driver came along and saw me and picked me up. One of the bad things with the island is that there is no proper hospital here. I was taken to the city where they gave me stitches and painkillers but I had to take the boat for three hours to the mainland for further medical checks. Luckily I am alright.
The worst/best experience at the same time involves things like setting up the business, weeks of stress and hard work. And, sometimes even during surfing,  paddling for hours against currents getting smashed by waves over and over again… But putting all that time and hard work into something whether it is opening your business and seeing it grow and finally catching your perfect wave is an incredibly satisfying and rewarding feeling that makes you feel so alive and it teaches you to never give up.
MM: How do you get covered by healthcare?
CH: I got my own extended insurance that covers my healthcare here in case something bad would happen.
MM: Will you go back to your life before?
CH: I don't see myself going back to the life I had in Sweden anytime soon or ever haha. As much as I occasionally miss a modern lifestyle with modern homes and proper wifi I'm a lot happier here.
MM: What would you advise those who want to follow your way?
CH: For those who want to follow my way, I say before you do something be sure It's something you really want to do so you can stay committed and dedicated, be smart and decisive. But at the same time don't overthink it, overthinking all the problems and work of something you want to do can easily scare you away from the thought. If you're somewhere you love and It's something you really want to do your commitment and dedication will help you push thru any problems that might occur.
For those who want to contact Carl, you can contact him at https://www.facebook.com/SurFitGymSiargao/
Please find more photos and information about Siargao, Surigao del Norte at https://www.facebook.com/SiargaoIslands/