YENFiD-UK's Journey To Essen
by Johanna Espanola, YENFiD-UK Ambassador
YENFiD – UK has had many opportunities to offer in the past few months since our initial kick off back in March of this year. Over that time, we have planned and achieved fundraising events with the aim of sending 5 UK delegates to the ENFiD European Conference in Essen, Germany. Being a part of this, we have learnt what it means to be a leader; from organising, leading and representing young Filipino migrants of the UK.
Our first fundraising was achieved by our very own ENFiD-UK Board Member and YENFiD-UK Advisor, Regin Dullas. Kuya Regin trained for several months before cycling from London to Paris while YENFiD members set up a crowdfunding campaign, reaching out to the public, friends and families for sponsorships. By the 8th of July 2017, Kuya Regin had ridden up a gruelling 188 miles altogether along with a 5-hour ferry ride. This definitely inspired us youths to be ambitious in our endeavours.
Following through our list of fundraising projects, we then held our youth summer party "Millennials Summer Fiesta" which was held on the 5th of August. Here we aimed to bring Filipino – British youths together as well as making the evening fun and enjoyable for everyone. There YENFiD-UK officers, were officially introduced by ENFiD-UK Chairperson Christian Estrada. It was quite nerve-wracking standing at the front, but it made us all very proud of what we had achieved together! Again, this event was a success with performances from the youth and plenty of support from benefactors. Everyone had such an amazing time and it was such a great start for our future events!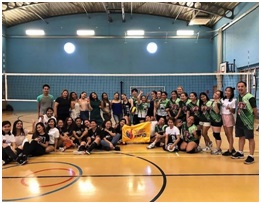 With the Essen conference getting closer, our Volleyball fundraiser "Dig, Set and Spike for the Future Generation" was held just a few weeks after, on the 27th of August. Here, 4 teams of Filipino women played head to head to win the championship trophy. It was an extremely exciting game throughout the whole day and had kept us on our toes as the scores were close! In the end, the Benguet Team took the championship trophy, closely followed by London Pride Strikers in the 1st place, Casilleras in the 2nd place and D'Eagles taking the 3rd place. We congratulated all those who participated, they all played an amazing game and had shown great team spirit! With such an accomplishment, we hope to plan more tournaments in the future.
In the end, the success of our three fundraising activities has enabled us to send 5 YENFiD-UK delegates to the Essen Conference. At the conference we got to meet amazing Filipinos from all over Europe: Italy, Netherlands and Germany, who are starting their journey with YENFiD. It was great to be able to meet other youths in the same situation, to listen to their experiences and witness them showcase their talents, despite coming from different parts of Europe! This was an undeniable opportunity we would have never gotten to do without the help of ENFiD. And, to all those who had supported us throughout the year, we are so incredibly grateful for your encouragement!  We hope to organise more events and create opportunities with great successes. Ultimately, become great leaders of the Filipino diaspora.