ENFiD-Swiss hosts Araw ng Kalayaan
Betsy von Atzigen, St. Gallen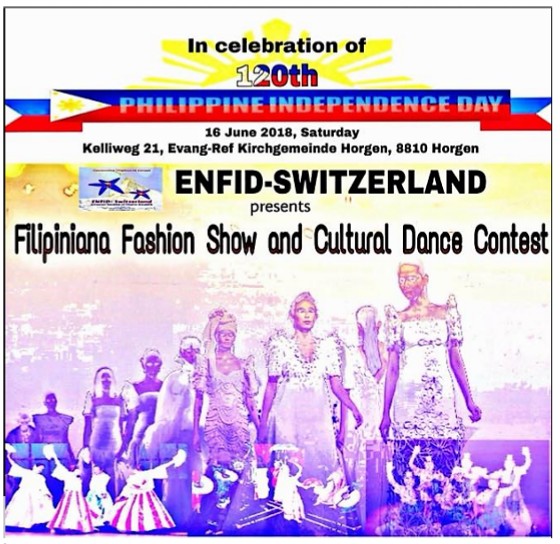 The European Network of Filipino Diaspora in Switzerland, ENFiD-Swiss, had the honour of hosting the 120th Anniversary of the Proclamation of Philippine Independence on 16 June in a fitting venue in Horgen, a large town along the south bank of Lake Zürich. The new Philippine Ambassador to Switzerland and Liechtenstein, his Excellency Ambassador Denis Yap Lepatan, his gracious wife and diplomat Mrs. Maria Teresa Cariño Lepatan, Minister and Consul General Josephine M. Reynante and representatives from the Philippine Embassy in Bern graced the event. Distinguished guests from Austria, Germany, Brussels and UK came and supported the event.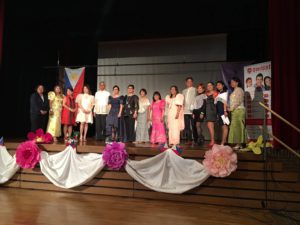 Over sixty performers kept the audience entertained beginning with Samuel Argota's Ang Bayan Ko song and guitar. The show drew exciting applauds for glamourous models in a Filipiniana Fashion show, donning Philippine costumes. The cutest of them all were Euro-Pinoy kids aged 4 -12 taking turns in showing off their native attire.
YENFiD, short for Youth of ENFiD, aged 13-30 was a stand out in their cool interpretation of the Filipiniana. These are second and third generation European-Filipinos, some of whom may have only occasionally visited the Philippines. Sincere recognition is given to Filipino parents who within their power, keep the heritage intact.
Then a remarkable spectacle of a dozen Filipina-European couples representing the Samahang Pilipina Luzern (SPL) joined by guest Lenybeth Nayo from Austria captured the audience in their colourful, flowing Filipiniana fineries. It was a magnificent show of themed designs from the regions of Luzon to Visayas to down south Mindanao, complete with props and accessories. What merited louder applause were the Swiss-European husbands and male partners of the models brandishing the Barong Tagalog. Special recognition is given to ENFiD-Swiss Officer and Gratus Latinus Maricar Morales for organizing the Filipiniana segment.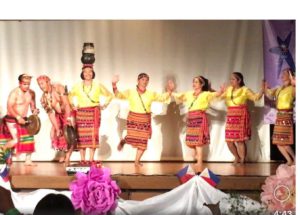 The highlight of the event was the cultural dance competition by the Kalingas of Switzerland based
in Berne, the Mabuhay Dance Group of Biel, Basel's Swiss-Philippine Dance Group and the
Visayan Dance Group, Berne. All groups gave their best performance in the areas of
ingenious dance steps, costume design, music plus a touch of comedy and drama. And as
in every contest, a winner comes out. The Visayan Dance Group led by Maritess Jampen bested the
numbers with their Mindanao-inspired tribal dance called Kadaltaho. It was a beautifully and well-synchronized choreography which expressed celebration of harvest, thanksgiving, marriage and family. They received CHF 1000 as first prize cash incentive and will represent ENFiD-Swiss in the coming ENFiD-Europe Tala competition in Paris on 19th of October 2018.
Guests from the United Kingdom, Ajos Trust Dance and Company performed Dance of the Saints. The group is led and inspired by JJ Formento, founder of Ajos Trust, a UK registered charity that provides scholarships to students from the village of Ajos in Quezon, Philippines. Ms. Vivian Kiefer, leader of Swiss-Philippine Dance Group and Dr. Fredy Dinkel of Baselland were recognized for their efforts in securing grants for ENFiD's Bio-Gas Digester project in Miag-ao Iloilo, Philippines.
Well-deserved recognition goes to the event Sponsors as follows: Swisstas Insurance and Finance, Revolutionprecrated Product by world famous Architects, artist and designers, Jetswok Catering and Services, Wilma's Kitchen and Restaurant, Acts Employment Agency, I Love Sushi, LBC Philippine Forwarding Company, RASCO Cleaning Equipment and Products, Joy and Bar Restaurant, Honeyclub, and Gratuslatinos Event Organizing Company.
Sincere appreciation to ENFID-Swiss leadership of Eppie Balagasay, Meriam Abalos, Marissa Duss, Irma Mae Kaestner, Maricar Latino, Joanna Wennstroem, Lina Ermert, Thezi Gauckler, Susan Cuesta, Elena, Edwin and Julia Seguerra, Pastor Ronald and Jennifer Duro, and the rest of the Team for organizing this memorable event. Congratulations to ENFiD-Swiss for bringing the Euro-Pinoy communities together in celebration of Filipino heritage. Mabuhay ang Pilipino! Mabuhay ang Pilipinas!