ENFiD in the picture!
Dear readers,
At the height of the preparation for this issue, ENFiD is again the subject of unfair and unfounded accusations of being the 'yellow arm' in Europe of the Liberal Party of the Philippines and of being funded by US-based philanthropist, Atty. Loida Nicolas. Both accusations are untrue. These accusations were based on the presence of the former ENFiD Chair Gene Alcantara in an anti-Duterte rally in Paris. We have already clarified that Mr. Alcantara's presence there was not as an ENFiD member. More importantly, ENFiD did not organize that rally as opposed to what other people think.
Contributing to Development
ENFiD is composed of members who are pro-Duterte, anti-Duterte, pro-Marcos, anti-Marcos and all in-between. As a platform of Euro-Pinoy organisations, ENFiD is non-partisan. We do not prohibit our members from expressing their own political inclination, as long as they do not represent and speak on behalf of ENFiD. The problem is that Mr. Alcantara, having been a prominent community leader since the 90's, has a high profile in Europe.
The postings of our pro-Duterte members are not as highly profiled, which is why many do not know that we have them as well. In fact, within our own Board of Directors and within the ranks of Country Representatives, we have many Duterte supporters. However, we do not feel it necessary to banner this fact simply because we have a basic agreement that personal political inclinations will be set aside as far as ENFiD is concerned.
Why? Because in ENFiD, our projects mainly deal with contributing to the development of our country, especially with helping the marginalized and less fortunate kababayans; we undertake activities which will improve the connection and cooperation among diverse Filipino organisations in Europe; we promote linkages between our member-organisations; we build up healthy exchanges of best practices and human resources; we stimulate the sense of belongingness, a sense of being 'a nation outside our nation.'
ENFID projects: biogas digester in Miagao & school in Bohol
How do we do these? For one, ENFiD is working in refining a household level biogas digester that will make it possible for the rural poor and our indigenous kababayans to use all bio wastes as fuel for their cooking. Last year, we were successful in making the working model. Now, we are in the stage of refining and eventually reproducing these. These, to start with, will be distributed to the communities with the help of local government units (LGU's) in Miag-ao and neighboring towns.
In addition, ENFiD-Italy built a school in Bohol in 2015 after the earthquake destroyed most of its educational establishments. Various ENFiD member-organisations continue to support schools and scholarship projects in various parts of the Philippines until today.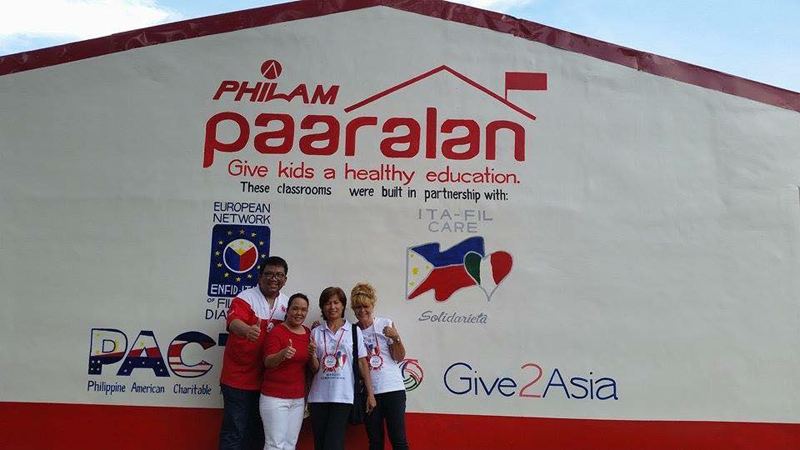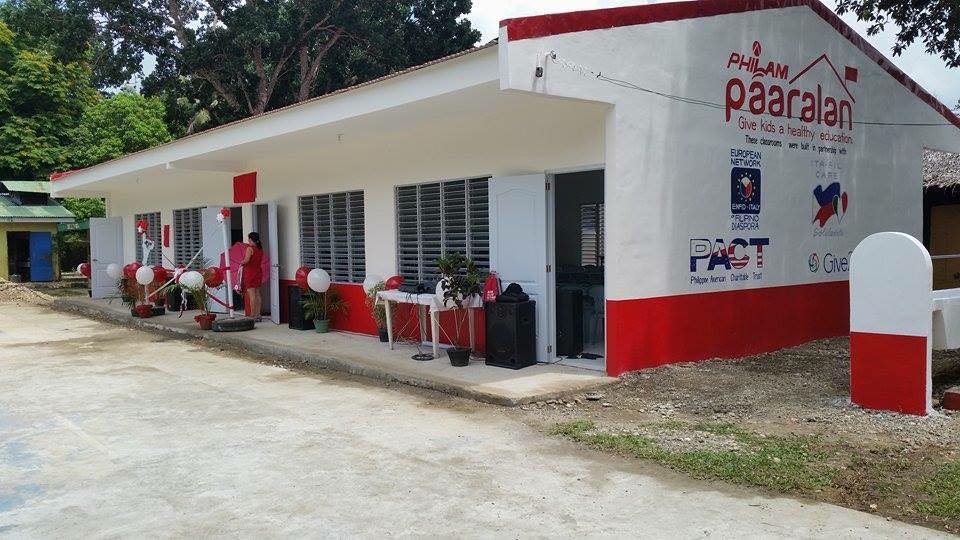 Marawi fundraising
Currently, we are promoting 'ENFiD for Marawi' fund-raising action to contribute in supplying the needs of our displaced kababayans in Marawi in partnership with Balay Mindanaw. So far, the first donation of €585 was wired. More updates about this will be found in this issue.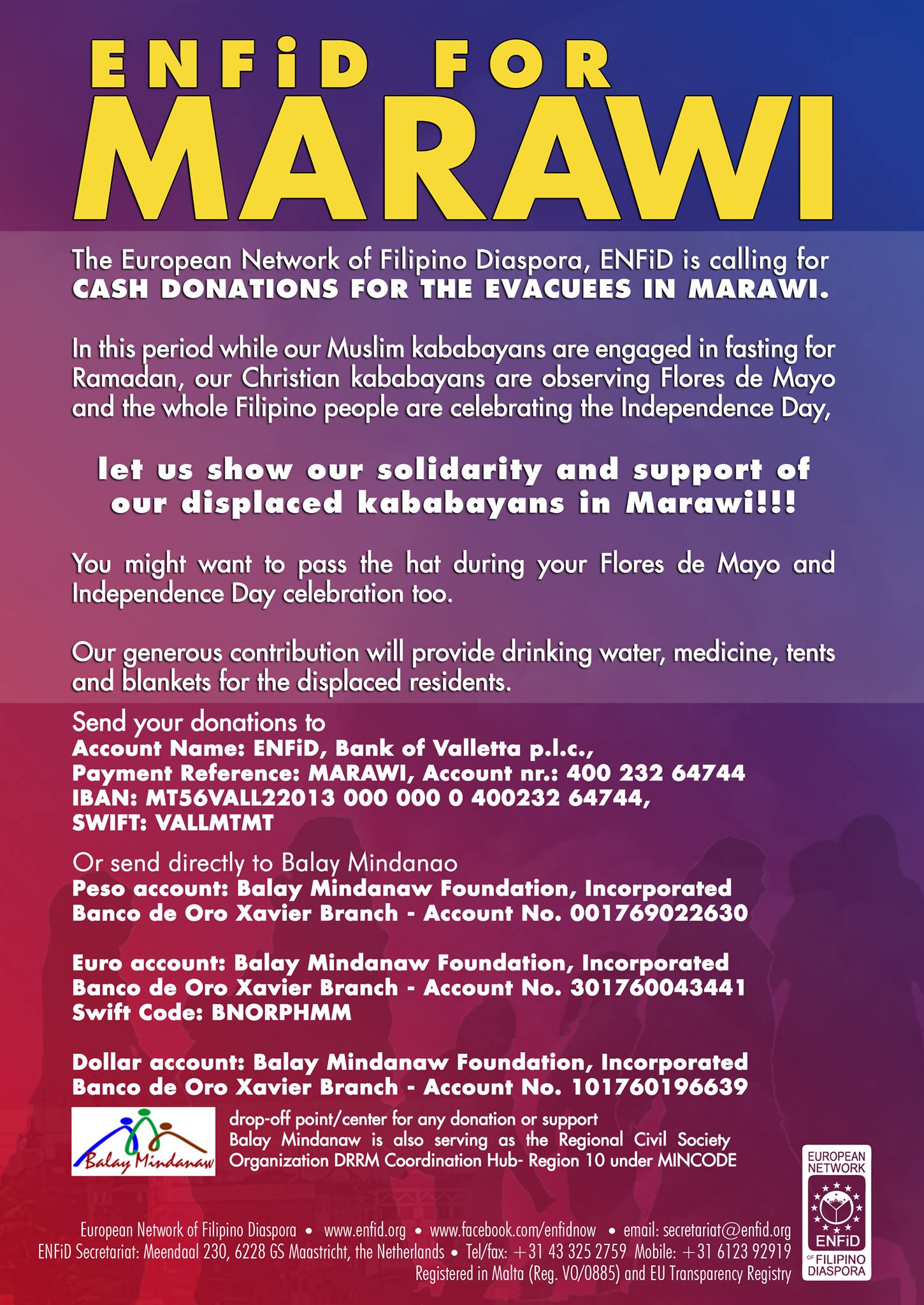 Support to Bagabo women weavers
ENFiD is also looking at the possibility of marketing the textiles produced by the Bagobo women weavers in Europe. We are discussing with WIMLER founder and director, Leila Rispens-Noel various possible ways of doing so and hope to start this project by September.
Young ENFID (= YENFID) launching in September
For Europe-based Pinoys, ENFiD held a training workshop on gender sensitivity and leadership in May in Germany and initiated the formation of Young ENFiD (YENFiD) which will be launched at the European Conference and General Assembly that will be held in Essen, Germany from September 30th to October 1st. YENFiD is now composed of a core group of young Euro-Pinoys from the Netherlands, Norway, Italy, Switzerland, Germany and the UK. A YENFiD Teens group was also formed in the Netherlands. More information about YENFiD is also included in this issue.
ENFID sport competition
The first invitational sports competition involving ENFiD France, Czech Republic and the UK will be held during the Pista sa Paris event from July 1st to July 3rd. This friendly sports event is envisioned to be followed up with a pan-European event.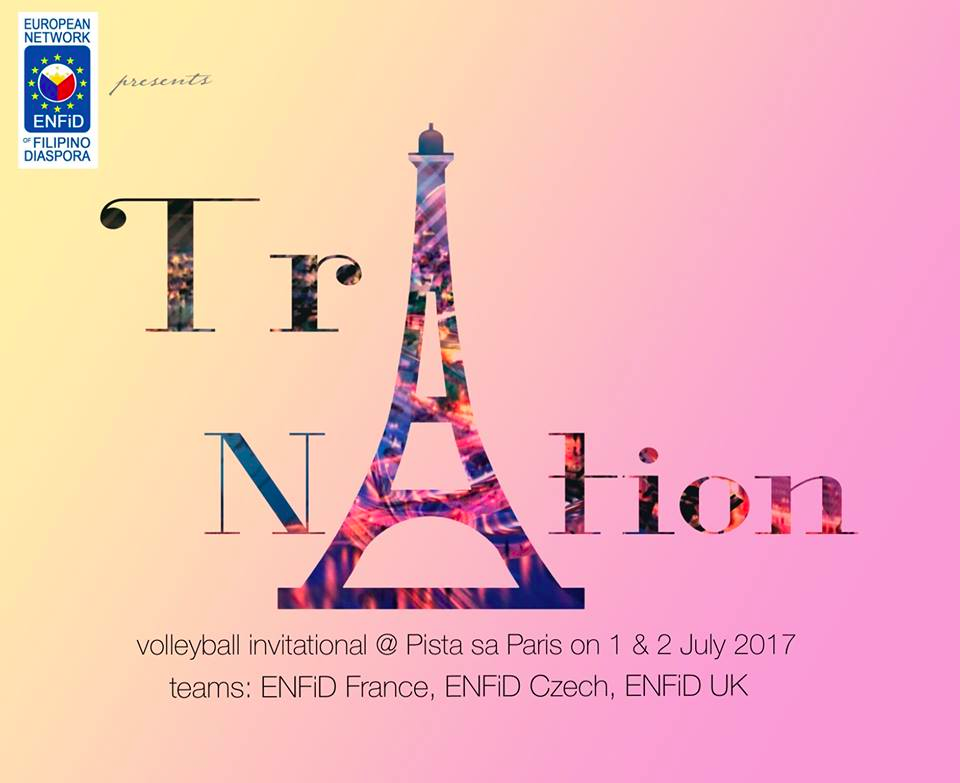 All these projects do not require one to be of any specific political conviction. What is most important for ENFiD is one's dedication and willingness to genuinely cooperate and be part of ENFiD projects and activities that are geared to further personal and community developments.
Not a divisive instrument
At any rate, we at ENFiD, although saddened, decided not to succumb to these sinister rumor-mongering in the social media. Although it is disheartening to see that the selfless efforts of hundreds of ENFiD leaders and members are being negated only because many pro-Duterte followers unwittingly equate one ENFiD member in the person of Gene Alcantara to our whole network, we stand straight because our conscience is clear. Of course this disturbed us. Ideas were offered for pro-Duterte members to post actively their political line of supporting Duterte and show their identity as ENFiD at the same time that the other anti-Duterte members also post their own take on the matter. BUT NO. We will not be yet another instrument of division within our community. Still I want to commend our pro-Duterte members who are doing their best to explain to their pro-Duterte colleagues about ENFiD.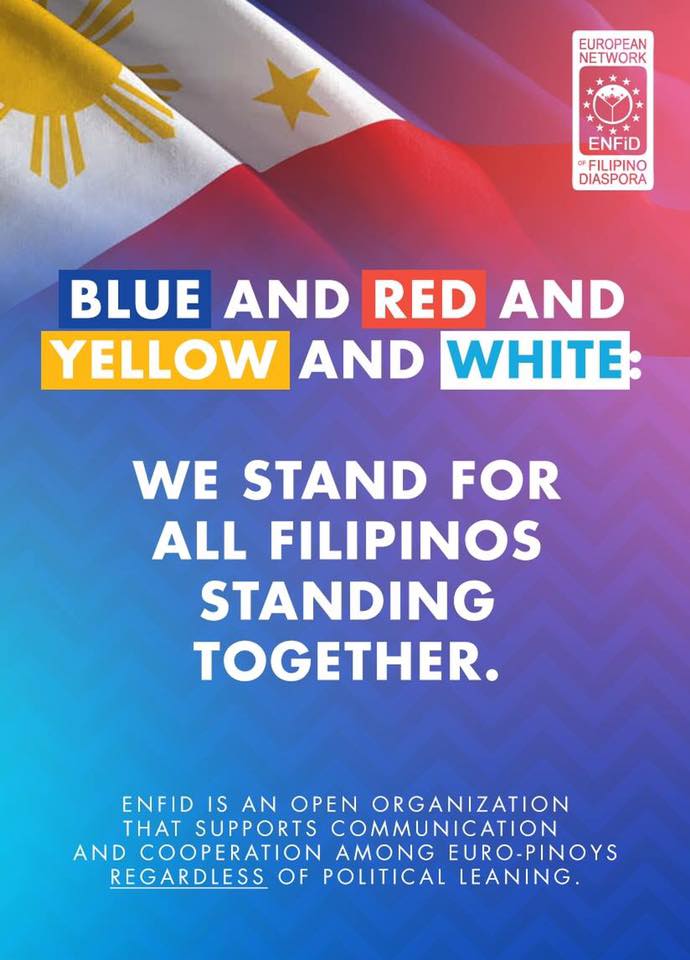 As a final word: we know where we stand and we are true to the principles of respect and democracy that we agreed upon and honor within ENFiD. If fact, these attacks from people who barely know us only make us stronger. Our members become even more united and determined to see to it that we will deliver. It is not for nothing that we chose "Kung sama-sama, kayang-kaya" (Together, we deliver!) as the title of our forthcoming Conference in September in Essen.
So there you go, dear readers. I hope this narrative clarifies to you what ENFiD is. Please spread the word.
Happy reading,
Rohlee de Guzman
Executive Director, ENFiD