Welcoming Ambassador Denis Lepatan to Switzerland
Betsy von Atzigen, Switzerland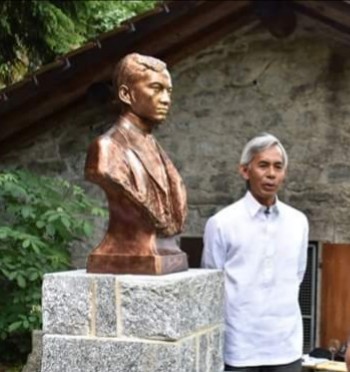 His Excellency, Denis Yap Lepatan, Ambassador Extraordinary and Plenipotentiary to Switzerland with concurrent jurisdiction over the Principality of Liechtenstein is no stranger to Switzerland. For 13 years, he was posted in Geneva as Deputy Permanent Representative of the Philippine Mission to the United Nations.
In Geneva, global hub for diplomacy, banking and headquarters of Europe's United Nations, Ambassador Lepatan mastered his craft in areas of international development policies and effective administrative management. He is known for his personal integrity and unblemished service in over 3 decades of Foreign Affairs postings in the Home Country, Geneva, New Delhi, Colombo, Rome, and now Berne.
Ambassador Lepatan is a recipient of the Gawad Mabini Award, with the Rank of Dakilang Kamanong (Grand Cross). As a person, he is well-respected among his colleagues who regard him as an excellent team player, a good planner, and a decisive leader. He is married to Maria Teresa Cariño Lepatan.
Betsy in a brief chat with the Ambassador Denis Y. Lepatan:
What is your best experience with Filipinos in Switzerland?
Ambassador: My best experience is when there are gatherings. It is fun! I could see Filipinos interact very closely and it reminds me of the Philippines because we like to fiesta and we behave like in a fiesta. "
What would be your priorities as Ambassador to Switzerland and Liechtenstein?
Ambassador: "The first is to visit all the Filipino groups in Switzerland, then work on the economic relations with the country. There is work to do on the Philippine-Swiss free trade agreement and use it in order to expand relations. My third priority would be on the cultural side, which is to remind Filipinos of our heritage, and tradition so that we could feel the Philippines even when away from our country."
What do you perceive as challenges of Filipinos living in this country?
Ambassador: "Most Filipinos living in Switzerland are permanent residents and have acquired Swiss citizenship. Many have been here for quite some time, thirty-forty years and have adjusted to Swiss life. The problem is with those who are not regular residents, or undocumented."
How can the Embassy help the undocumented?
Ambassador: "As far as the Embassy is concerned, we treat everybody equally whether regular or irregular, documented or undocumented. They are Filipinos and we are duty-bound to provide them the services and documents they need. The problem really is how to deal with the local authorities because they are the ones who set the rules and regulations.
What is your message to the Filipinos across Switzerland, Europe and globally on the occasion of the 120th Anniversary of the Proclamation of Philippine Independence?
Ambassador: "You heard the message of the children? We have to take care of our freedom, and make it grow, because after all, this is for our children to enjoy. As a senior citizen, the only thing I could think of is the youth and how I could help them. My time has passed. It's for the youth. Let us help our country enjoy the benefits of our freedom. "
With that, I thanked the Ambassador on this special occasion and wished him well.