ST GALLEN CELEBRATES 60TH DIPLOMATIC PHIL-SWISS RELATIONS
Betsy von Atzigen, ENFiD-Europe Chair, Switzerland
His Excellency Philippine Ambassador to Switzerland and Liechtenstein Joselito A. Jimeno recognized ENFiD-Switzerland and Samahang Pilipino Swiss-St Gallen (SPS-SG) for jointly organizing the cantonal celebration commemorating the 60th Annniversary of Philippines-Switzerland Diplomatic Relations held on 11 November 2017 in the city of St Gallen.
The year-long cantonal celebration was launched early this year in Berne, the country's capital and is coming full circle after the event in the Italian-speaking canton of Tessin.
In his speech, the Ambassador briefly noted the history of Philippine-Swiss relations from the 1800s to the present. He affirmed the legacy of freedom-loving Swiss personified by the legendary hero William Tell, whose life story Philippine national hero Dr. Jose Rizal translated into Tagalog. He mentioned the role of Swiss artist Richard Kissling, sculptor of two famous heroes William Tell in Altdorf and the Rizal monument in Manila, which inspired Philippine independence from Spain.
"The Philippines equally hopes to learn from Swiss lessons in federalism and vocational-technical education and training," the Ambassador added. He further expressed that the ratification and implementation of the Free Trade Agreement between the Philippines and EFTA countries will bring more opportunities for expanded trade flows and commercial exchanges between the Philippines and Switzerland.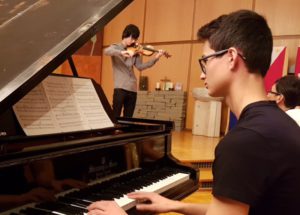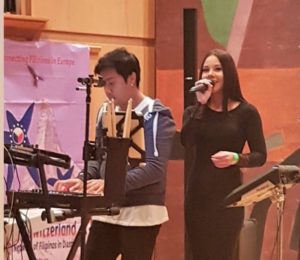 About 300 Filipino and Swiss nationals attended the Filipino dinner event, followed by an evening of splendid, mainly young Filipino-Swiss talents . Featured were exceptional violinist 19 year old Joshua Uhland, accompanied on the piano by his 15 year old brother David in deeply touching renditions of Czardas by Vittorio Monti, Ave Maria by Johann Sebastian Bach and Zapateado by Sarasate. Joy Züger and her 4 young, versatile performing daughters danced the Binoyugan, Fan and modernised Hawaian dance while another sang `Ako ay Pilipino.'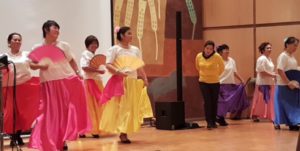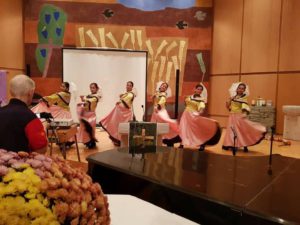 Jeff Rolloda, St Gallen-based Original Pilipino Music (OPM) singer, rapper and instrumentalist wowed the youth among the audience with his own cool compositions while young diva Vanessa Schibli cheered the crowd with her soulful vocals.
Young Samahang Pilipina Aargau (SPA) dance group led by Mary Jane Hug charmed the audience with a graceful Sayaw sa Cuyo while Samahang Pilipino Swiss-St Gallen (SPS-SG) contemporized Philippine folk dance Carinosa. Menchie Enders' Dance group Tribolo Agolo from Principal Liechtenstein, Austria and Switzerland reinvigorated tribal folk dance steps for the Pinikpikan, Kazaduratan, Piliin mo ang Pilipinas and Una Kaya Kaya.
Both organizing committees made brief presentations, highlighting the 25th anniversary of the Samahang Pilipino Swiss-SG this year, and ENFiD-Switzelrand's mission to connect with Swiss-Filipino communities and individuals with the aim to promote Philippine culture, arts and sports; recognize and empower the 2nd generation Swiss-Filipinos, educate and develop leaders while engaging in long term sustainable environment projects in the Philippines.