Featured image: FWN awardees with Ms. Leonor Vintervoll preparing for another summit.
Rewards, like punishments are sometimes ineffective and at worst counterproductive. Why? Consider a class of students who are rewarded at the end of the year for the best academic marks. At the onset, it looks like a good idea, because the students will try to study hard to attain the best grade. However, not all students started with the same skill set and other factors such as social class which influence their performance are not considered by the award-giving body. By default, the recognition system places some students in a disadvantage position.
However, in the work environment, employee recognition is considered good for business. How is that so? Recognition whether individual or team reflects the values and goals of the organisation. Recognising that a member of the team did a good job is an affirmation that the organization is moving forward. Meaning, people are working to make things happen. In return, workers respond to appreciation well with high job satisfaction and rise in productivity.
But how can organisation reward their members and at the same time keep the talented ones? Phil Jackson, the all time best basketball coach has a formula for making his team work, by collaboration. He recognises that everyone has a role to play to make a winning team. He leads the best players in the world even those with eccentric personalities like Dennis Rodman. He made them all work together and win not once but several times.
ENFiD like the NBA are made up of Most Valuable Player (MVPs) with outstanding personalities who have contributed to their community in Europe and the Philippines. Mr. Virgilio Cuizon of ENFiD Germany was a three- time recipient of the Banaag Award, a Presidential Award for Filipino individuals or organizations for their contribution to promote the interests of overseas Filipino communities. Mr. Rodrigo "Oggie" Maristela also received the Banaag Award after the footsteps of his mentor, Virgilio Cuizon.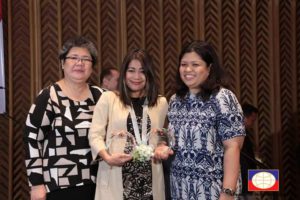 The Filipina Women's Network, a non-profit international advocacy organisation promotes and recognises Filipina leaders in every sector of the society. Ms. Leonor Vintervoll of ENFiD Norway, is a two-time recipient of the 100 Most Influential Filipina award, for her contribution to elevate the status of Filipino women in Norway. She is also the current Vice President for Recruitment of FWN. Ms. Mae Cayer of ENFiD Austria was also nominated for Behind the Scene Category. Ms. Anny Misa Hefti from Switzerland was also an FWN Awardee in 2016 as well as Ms. Cheryl Sevegan of ENFiD Israel received the Emerging Leader award in 2015. Other Filipinas from Europe who received the FWN awards in 2017 were Ms. Joanne Michelle Ocampo from Norway as Emerging Leader. Councillor Cynthia Barker of UK was awarded as Visionary and Policy Makers and Ms. Rowena Romulo also from UK as Builders Category.
In our previous issue we featured our former Chairperson, Mr. Gene Alcantara, the recipient of the British Community Honours Award, for promoting community cohesion and social integration in the UK.
This year is a grand slam for Ms. Pia Abucay Gonzales, the Country Representative of ENFiD Italy. She received three awards from different award-giving bodies for her work in the community and mass media with her newspaper, Ako ay Pilipino. She was an FWN nominee but she deferred to receive the award. She was also a recipient of FEDERFil Italy Award for Media and by the Commission of Filipino Overseas for Migration Advocacy and Media Awards.
To all the awardees, thank you for bringing prestige and honour to the Filipino people. I hope your tribe will increase and you will continue your advocacy within ENFiD and beyond.
Sources:
Banaag Awardee-Rodrigo Maristela in Balitang Global https://www.youtube.com/watch?v=c4v6XmUkWEs
British Community Honours Awards https://www.bcha.info/
Filipina Women's Network https://filipinawomensnetwork.org/global-fwn100-2017/
Migration Advocacy and Media Awards http://www.cfo.gov.ph/news/cfo-news-and-events/3540-mam-awards-winners.html
Presidential Awards http://presidentialawards.cfo.gov.ph/categories